Tucked away in the picturesque mountains of Cingjing, Nina de Chocolate is a cute, little candy house making exquisite handmade chocolate bearing interesting flavours with locally-sourced ingredients such as Cingjing gooseberry, kaoliang liqueur and even Alishan wasabi.

Located within Florence Resort Villa, Nina de Chocolate reminds one of a candy house found in a fairytale. It is one of the attractions in Cingjing, and people come here to buy their special handmade chocolates home or have tea.


Even their mode of transport is so cute!

The theme of the place is whimsical, and great for families with kids or just about anybody with a sweet tooth (dats me!).


Enjoy the cool air and have your chocolates at the outdoor terrace.
The chocolate atelier is maintained at an optimal 18 degrees celsius to ensure the best quality of chocolate, so if it gets too crowded, visitors are offered tea and invited to wait at the terrace for a short while.


With such delicious dessert, everyday is Christmas ;)


Nina de Chocolate was opened by the owners of Florence Resort Villa as a present for their daughter named Nina who loves chocolate, and Nina also means 'girl' in Spanish.


The interior of the shop is a cosy space with a retail area and chocolate DIY corner. All the girls were naturally attracted to the chocolate. The welcoming shop staff also offer you chocolate samplings *squealing with glee* :)


Nina de Chocolate uses Swiss Lindt and Belgium chocolate to ensure a smooth, rich taste and no preservatives are used. They creatively use locally-sourced ingredients such as gooseberry and red tea from Cingjing, wasabi from Alishan, Kaoliang wine, Taiwanese black sugar and peaches to create unique flavours.

How do I resist this amazing spread – I want to try every single flavour! :p The chocolatier also offers seasonal flavours, do ask for them when you visit.


My eyes lit up when I saw the alcohol series; there's cherry liqueur, blueberry liqueur and even rice wine flavour!


Their attractive packaging makes for awesome gifts to bring home. Do note they do not keep long as no preservatives are used, so only buy if you are travelling home within the next 3 days.


This is the lucky girl Nina :) By the way, the three Italian gondolas beside her are made of chocolate. They do not melt as the air in Cingjing is perennially cooling.


These attractive chocolate pops sure make attractive gifts to bring back home for visitors.

These chocolate-coated nuts have a slightly longer shelf life, so you can buy them home. They are easy to pack in the luggage too ;)


These ink stamps are so Japanese-inspired!


The pretty chocolatier introducing the cocoa bean to us, and showing how to make a chocolate-coated gooseberry which was freshly plucked.

Showing us how chocolate is prepared
What's more special than simply visiting a shop to buy chocolates? We made our own at their DIY chocolate-making class. Classes are held daily and each session lasts about 2 hours with a maximum 15 pax. While you can register on the spot, the DIY classes are pretty popular with kids and groups, so I would encourage you to make an advance
booking online
if you can.
Here's my very own chocolate mold and decorative ingredients; time to unleash the Picasso in me :)
After you are done with your designs, chocolate which was earlier prepared by the staff is poured into the mould and put into the refrigerator to cool for 15 minutes.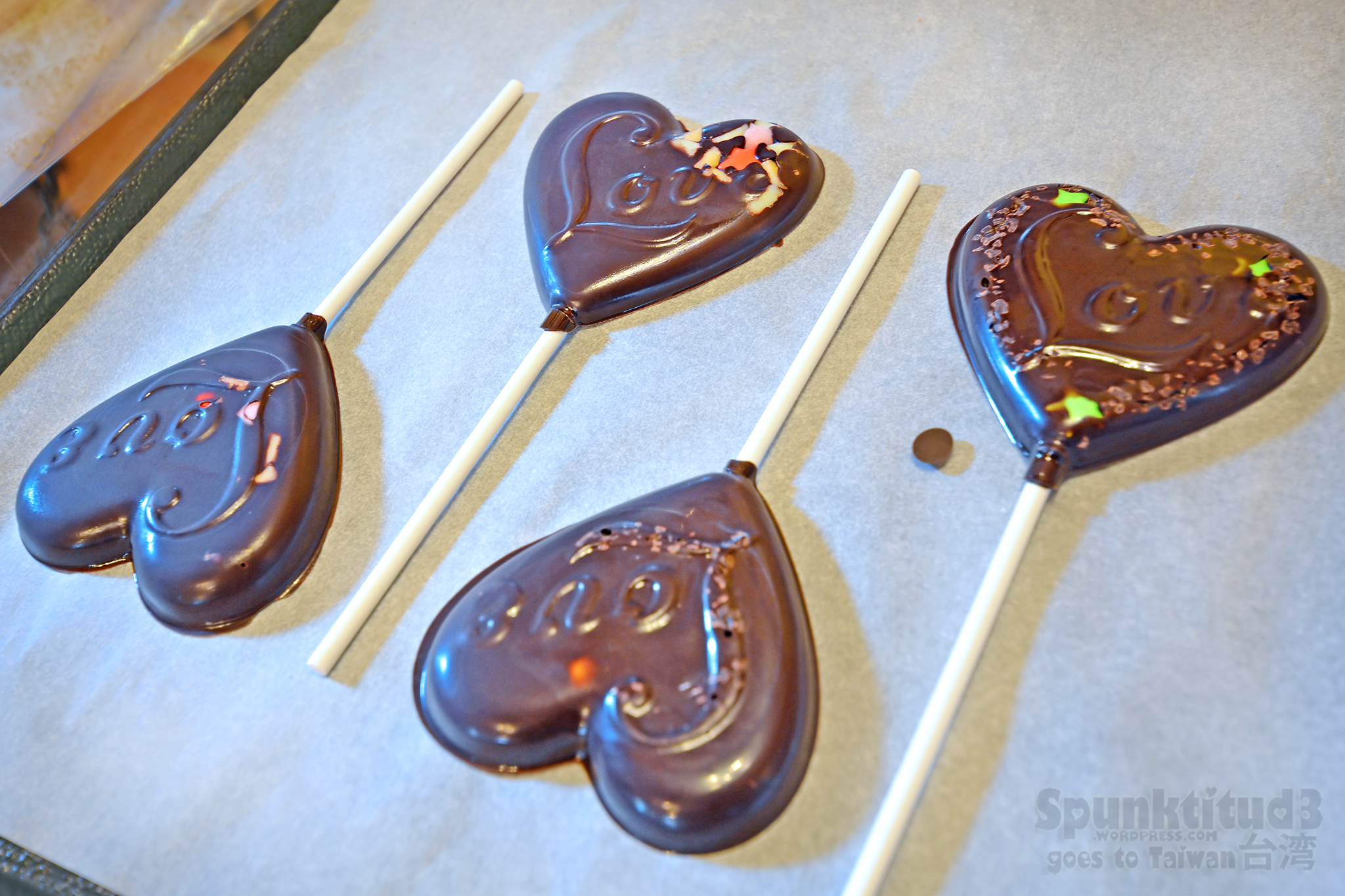 And viola – my masterpieces! :)
Proudly showing off the fruits of our labour :)
And we indulged in a chocolate feast to reward ourselves ;)
One of the most special flavours in the shop is this attractive pink-coloured one named Galaxy. Much like something out of Willy Wonka's factory, it is made up of cotton candy, strawberry crisp balls, Belgium white chocolate and…… jumping sweets which fizzles in your mouth!
Looking inside of Galaxy – Interesting flavour worth a try :)
Oooh…the kaoliang rice wine is oozing out of my chocolate! *hic*
I love dark chocolate, and the 85% raw chocolate sent me to the moon. I can still remember the feeling of smooth, rich chocolate filling up my mouth. Mmmmmmm…sinful pleasures ;p
This green wasabi flavour is one of the shop's most popular offerings – there were only three left! (And I ate two muahaha)
Saying it with a chocolate – I LOVE it!
My master creations all wrapped up and ready to go home with me :)
Nina de Chocolate is really a fairytale come true, cos' we had so much fun and chocolate to last the entire trip – I felt like a child again :) Do drop by for a visit the next time you are in Cingjing!
Nina de Chocolate 妮娜巧克力工坊
Address: 南投縣仁愛鄉大同村榮光巷8之3號 (at Florence Resort Villa 佛羅倫斯民宿)
Tel: +886 (0)4 9280 2988
Opening hours: 9:00AM to 7:00PM
Website: http://www.nina-choc.com
Facebook: http://www.facebook.com/Nina.chocolat